The INSeaPTION workshop on coastal climate services was organized from 22 to 23rd March at the Art Conservatory in Papeete (Tahiti).

To quickly synthesize this workshop on 22-23 March 2018:
these two days gathered about 50 participants from 30 different (State or Territory) institutions or departments ;
it included 1 plenary session with presentations, 1 roundtable discussion and 2 thematic working groups with stakeholders ;
the workshop was organized by the project team made up of members of Créocéan-La Rochelle, UMR LIENSs (Univ. La Rochelle-CNRS), BRGM-Orléans, with strong support from local agencies in Polynesia in Créocéan-Pacifique and BRGM-Tahiti ;
this event helped in identifying the specific needs for scientific information and to define 10 tailor-made climate services for coastal adaptation in French Polynesia.
Key figures as a quick overview of the main outputs of the two-days workshop with Polynesian stakeholders: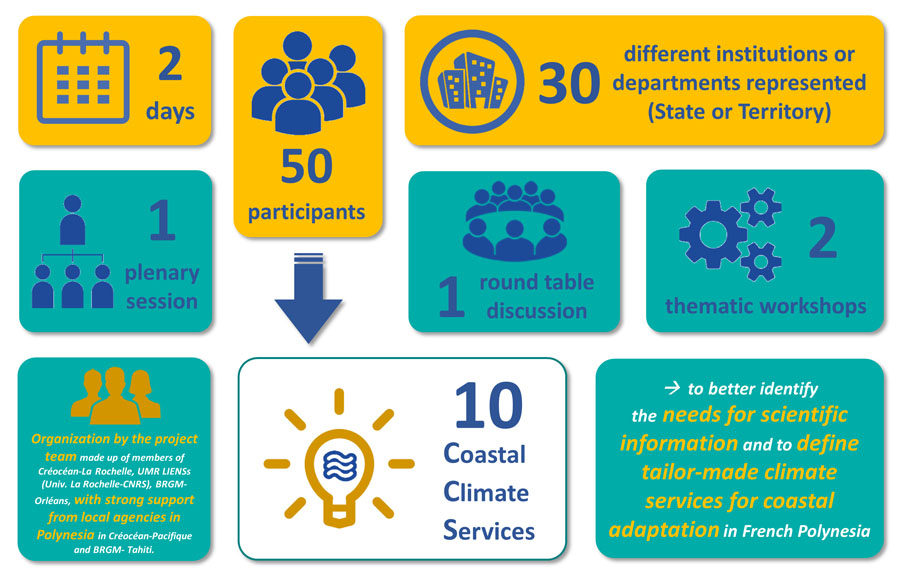 Full synthesis report of the 22-23 March 2018 User Workshop in French Polynesia
---
Resource (in French):
Short synthesis of the 22-23 March 2018 User Workshop in French Polynesia
---
Resource (in English):